Secret Identity
With The Scarlet Pimpernel, Orczy created her own literary sub-genre: the Hero with the Secret Identity. In the past, courageous heroes emerged from strange places (like The Frog Prince, or Beauty and the Beast), and villains had often disguised themselves to hide their identities. But Baroness Orczy had her hero create a weak-kneed, foppish identity to hide his true purposes from the world. This idea was, of course, emulated throughout the 20th century, from The Shadow to Batman and Superman.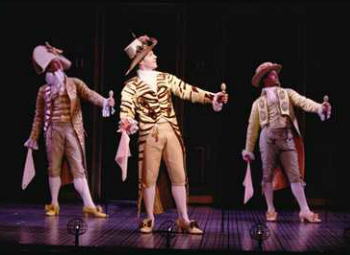 Why are we so attracted to the idea of a "mild-mannered" character with a hero hidden inside? Discuss the dramatic irony created in The Scarlet Pimpernel when the audience knows the truth about Percy's "secret identity," while characters like Marguerite and Chauvelin are left in the dark?
In The Scarlet Pimpernel, Marguerite learns the truth about her husband by looking past his outer, foppish appearance and seeing the hidden hero underneath. Describe, in speech, story or poem form, an incident in your life when you misjudged someone because of their outer appearance.
The Scarlet Pimpernel, Mademoiselle...is the name of a humble English wayside flower; but it is also the name chosen to hide the identity of the best and bravest man in the world, so that he may better succeed in accomplishing the noble task he has set himself to do. - from the novel, The Scarlet Pimpernel, by Baroness Orczy
Back to Main Page