I interviewed William in New Haven, Connecticut shortly before his fifth performance as Chauvelin. I had not yet seen him perform, so I didn't know what to expect, but I found him to be absolutely charming and delightful. His speaking voice alone has such a rich tone that I knew I was in for a treat the first time he opened his mouth on stage, and I was not disappointed.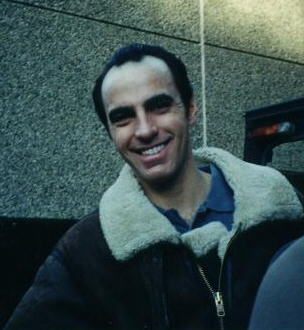 NR: Tell me a bit about where you grew up.
WPM: I grew up in New Jersey, in Cranford and in Spring Lake. In Spring Lake, I was a lifeguard on the beach. That was fun. I did community theater down there in the evenings and sat in the lifeguard stand and rowed big wooden row boats and worked out all day long.
NR: Did you go into the city a lot to see theater?
WPM: I did. It's in my family.
NR: Really. How?
WPM: All on my father's side. My grandfather was a semi-professional singer and my father's brother was a leading bass at the Met. Through my uncle's family, I was exposed to a lot of music.
NR: Did you grow up backstage at all?
WPM: No, I didn't really grow up backstage, but all of our holidays were really "singing-oriented." We'd get around the piano and sing Christmas carols, traditional Polish songs (my father's side of the family is Polish), and old concert songs that you don't hear very much now, songs that were sung in the middle of the century.
NR: And you grew up on those?
WPM: Yeah, I did. It wasn't the typical pop music that people would listen to.
NR: You have an opera background also, don't you?
WPM: I do.
NR: Did you have to make a choice at some point and decide what you wanted to do? You seem to do both now.
WPM: I did have to make a choice. I went to Boston University and I studied International Relations, which is basically Political Science. I decided on that because I didn't really know what else I wanted to concentrate in. I thought about going to go into Physics. I didn't really know what I wanted to do.
NR: Did you know that Marc Kudisch was a Poli-Sci major?
WPM: Was he? I'm not surprised. I probably did know that because we worked together for a long time in Beauty and the Beast.
I also did the opera program part time. I studied with the best teachers there. I was pursuing opera after college for awhile, but I found that a singer in his twenties just can't make a living in opera. The work is too sporadic and the voice just hasn't matured and developed, and it was a little frustrating for me. So, at the urging of my then-girlfriend Lisa, who's now my wife, I auditioned for the Paper Mill Playhouse which was right near my home. I started off in their production of Oklahoma! and I've been working ever since.
NR: Do you miss opera at all?
WPM: I do. I definitely do. That kind of discipline, the sound, and the different musical demands...they are higher. They're greater demands than musical theater or pop. I miss the discipline and that artistic aspiration. But it isn't ruled out.
NR: Was Beauty and the Beast your Broadway debut?
WPM: It was.
NR: And you were the Beast?
WPM: My first performance on Broadway was as the Beast. That morning I did The Rosie O'Donnell Show. I had to get up at the crack of dawn and put on the make-up and the costume. All I did was jump on the show and give her a big kiss. I think it was the Listerine charity donation - for every kiss that Rosie got they gave her a thousand dollars for charity. Then I did the matinee and the evening, so it was a long day.
NR: Wow, what a great debut. What was that like?
WPM: It was exciting. The day started out with limousines and being dropped off at Rockefeller Center, then back to the Palace Theatre for the two shows.
NR: How long did that make-up take to put on?
WPM: An hour. It's actually a half hour for the make-up, about ten or fifteen minutes for the facial hair and the wig, and then another fifteen minutes to put on the costume and the body hair.
NR: That must have been tough to act in.
WPM: It was fun. It's a different brand of acting. I consider that I got my "BFA" degree in acting - that's "BFA" for "Big Face Acting." (laughs)
NR: (laughing) I guess subtle didn't cut it.
WPM: There were five latex prosthetics on my face and the fur on top of each of those, not to mention the heavy make-up, the big hump on the back, and the capes and the boots, etc.
NR: So I guess a fencing scene is nothing in comparison.
WPM: It's not much, no. I sweat in the last scene of this show and that's it, whereas as soon as I put on that Beast costume, I'd have the fans on me and the air conditioning blasting.