What is it about men who play Percy? Peter was the fourth Percy I interviewed, and they were all charming, sweet, and positively delightful to speak with. I first met Peter on the night of his second performance in the role, after he had made his debut earlier that afternoon in the matinee. I doubt he remembers much of that evening since he was pretty much floating above the ground, but I remember being struck by how thrilled the company was for him. It seemed that each member of the cast made it a point to congratulate him after the show. They were all so happy that he had finally gotten a chance to go on after being with them for almost four months. It was such a warm show of affection that it impressed me greatly. Now that I've gotten to know Peter a little bit better, I can understand why.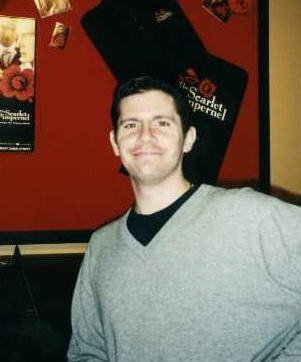 NR: Let's start. Where did you grow up?
PF: I grew up just outside New York in Montclair, New Jersey. Born and bred. It was great.
NR: Did you go into New York City a lot?
PF: All the time. My dad worked for NBC. He started as the director of a radio program called Monitor which was David Brinkley and Chet Huntley. Then he became Director of Operations for Radio and when TV became the big thing he started working with the affiliates out in the country. He had an office in 30 Rockefeller Center for 45 years. So, yeah, I was in the city almost every week seeing something. I loved it.
NR: Is that what made you decide to become a performer?
PF: Yeah. I did a show when I was nine years old. I was in You're A Good Man Charlie Brown. It was in public school and the music teacher said, "I think you'd like doing this." I really didn't have any idea I wanted to do it until I did it, and then I never stopped. It was one of those turning points. I just thought, "OK, I'm going to keep doing this."
NR: What type of training did you get?
PF: I went through Montclair High School and then I went to Northwestern University for theater. That was great. I learned to do everything there - direct, perform, produce. It was fantastic. Then when I got out of school I came straight back to New York.
NR: Were you familiar with The Scarlet Pimpernel before you came here?
PF: No. I hadn't seen it, nor had I read the book. I'd been out of town a lot doing a lot of shows, so I hadn't seen it before. When I found out I had an audition I came to see it and saw Doug (Sills). I thought he was just fantastic. I really liked the show. I thought it was clever and funny.
NR: The first time you auditioned was for SP3, right?
PF: That's right. This last version. This was my very first experience with it but I had been out of town working quite a bit over the last two years at different regional theaters.
NR: You're not listed in the program as a standby. You're listed as an understudy for Percy and some of the Bounders. Is that correct?
PF: Yeah. They condensed Bryan Batt's old position, which was the standby, with a swing position. So, I actually standby for Ron (Bohmer), but then I cover Russell Garrett (Elton), Ken Land (Dewhurst), and Matt Shepard (Farleigh).
NR: Have you ever gone on for any of them?
PF: I went on for Russell.
NR: Really?
PF: One and a half times.
NR: One and a half? Did he get sick in the middle?
PF: He's our dance captain and he wanted to watch the show, so he watched while I did. That was great. I actually liked playing that role quite a bit. It was fun. Then one night, I was sitting down here (lower lobby) for the first act, as I usually do. I always go back at intermission just to check, and Nancy, I'm walking across the stage behind the curtain and I hear over the loudspeaker, "Ladies and gentlemen of the company, Peter Flynn will be playing Elton for the second act of the show." No one had told me so I literally put down my reading and said, "OK, I guess I'd better go get some make-up." I got my make-up and I went up to Russell's room. He had gotten something in his contact and it was really bothering his eye. He felt OK but he couldn't see in the light. So, in the fifteen minutes that it took for intermission, they got him out of his costume, got all of my costumes up to his room, I put on make-up, got dressed, went down to the wings, put my wig on, and literally got to my place as the curtain went up. There I was playing Elton for the second act.
NR: Bryan told me once that for some reason his pager didn't go off, and he found out very late. He had to go flying into the theater.
PF: Oh, yeah. It happened to me last week. I had just finished understudy rehearsal last Thursday and I left to go down to the lower east side to run an errand that I had to do. On the way back I stopped at my house to say "hi" to my wife. It was around ten to seven. I literally put my key in the door and the minute she heard the key she came to the door and said, "You're on tonight! You have to leave!" So, I turned on my heels and came right back.
NR: You have to be here during every performance?
PF: Mm hmm.
NR: What on earth do you do?
PF: I do a lot of stuff. As you know, I direct. In fact, before I got this job, that's mostly what I was doing. I was directing a show at Lincoln Center, at Avery Fisher Hall. I directed a workshop of a new play at the Williamstown Theater Festival this past summer. When I'm not on I read a lot of scripts. I'm directing another show at Playwrights Horizons, and another script at York Theatre before Christmas - readings of these plays. So, this was actually what attracted me to the job because when I'm on, I'm playing a great role, or I'm not on and I get to use the time for my directing.
NR: That's great. You really haven't played Percy often, have you?
PF: No. I've done Percy five times now.
NR: And you've been with the company since the summer tour.
PF: I know. I started in June. You know, it's for a short amount of time. I told Ron that. I said, "If I were in your shoes I would be the same way because you're in the part for such a short amount of time. I totally would love to do it." So, yes, I come down here and I read. Sometimes I make phone calls. When we were in rehearsals for A Wedding Album at Lambs Theatre, I would come here. I would call the cast and give notes over the phone.
NR: That's a good use of your time. I was wondering, because there's no where else you could be but here. There's no backstage area in this theater.
PF: When we first got here and it was nice out, there's an alley that's right behind the theater. I used to go there.
NR: Where do the swings go?
PF: Same place. They either come down here, up to the alley, or in their own dressing room.