The only word to use when describing James is "joyous." It's a word that he uses often and it just seems to fit his outlook on life. As an added treat for our interview, James took me up on the roof of the Minskoff to take his picture. He's spent three years in this theater and you can see that it feels very much like home to him.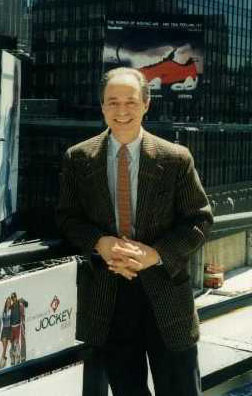 NR: Can you tell me where you grew up?
JD: I was born in Chicago. That's where I got most of my training. I studied in Chicago with several teachers at the Fine Arts Building and for a bit at the Goodman Theater as well.
NR: How long have you wanted to act?
JD: I think probably since I was a child. I would go to the movies with my family and I was always performing and having fun with the kids in the neighborhood. We'd put on a show in the backyard and do all that kind of thing. As I got into high school it was time for me to start making some decisions, and a girl, whose sister I was dating, said that she was studying in the Fine Arts Building - downtown - with professionals. So, I thought I'd go and explore and see what classes were available in terms of singing and acting and dancing, and I got a scholarship. I started studying as soon as I got out of high school, and working shortly thereafter, in Milwaukee in a nightclub revue called Hits of Broadway and doing summer stock in Kansas City at the Starlight Theater. So, work started happening for me early on, but I was really dedicated to the learning process. I didn't have any training prior to that and being that I had been given the opportunity of having a scholarship, I figured I'd better do my best and learn as fast as I could.
NR: Was it what you expected it to be?
JD: Yes, and more.
NR: That's great. And it's just grown since?
JD: Absolutely. I think there's always a need to keep exploring, to keep learning more if you're an inquisitive person and you want to know the hows, the whys, you'll finally come up with some wonderful things based on what you've put into your brain, through the classes and your studies. I've been very blessed with some really wonderful teachers - people who gave me a terrific set of ground rules and some wonderful training and techniques that I'm able to call on.
NR: What kind of ground rules? Like, if you wanted to advise someone who wanted to become an actor, what would you say?
JD: You know what I'd say? Something that a character actor said to me when I was a young man working in summer stock. His name was Joseph Macauley and believe it or not, he was in the original Three Musketeers. He was a character actor and would do all of the shows at the Starlight Theater in Kansas City. Week after week he'd change his persona to be yet another character and he was very secretive about what kind of makeup he used and what kind of putty he put on his nose and what kind of wigs he chose. I remember it was my first season of summer stock and I said to him, "What do I have to do to work in the theater, to be a successful actor like you've become?" He said, "Never forget this. Chance favors the man/woman prepared." So, that's been my motto, to keep learning and to keep growing. And then there comes a time in your life when you feel that you have to pass that knowledge on. I've been teaching here in New York City at AMDA - the American Musical and Dramatic Academy, and I've taught some master classes and audition technique workshops for the Kennedy Centers College Theater Festival at several of the regions around the country. I've also done some freelance coaching and workshops in different parts of the country, so I'm able now to take many of the things that were taught to me as a young man, and hopefully pass on some of the knowledge and years of training in the theater to others.
NR: Is this the longest you've stayed in one show?
JD: No. I played Andy Lee in 42nd Street for a year in Los Angeles at the Shubert Theater, and then I toured with it for two years, one thousand plus performances.
NR: Do you have any trouble keeping it fresh after that long, or is it still fun?
JD: It's always fun, especially with a show that has a big cast because the interaction between the actors that happens every performance on the stage changes ever so slightly based on so many variables. There's also the fact that you're doing a Broadway show. I believe less than one percent of our actors' union is working on Broadway at any one time.
NR: That's amazing. What a frustrating statistic!
JD: Yeah, and I think less than fifteen percent of Actors' Equity Union is working at any one time in regional theater all over the country, so I have to say that keeping it fresh is not a problem. You really have to remember that we are the privileged few to be able to be out there "on the boards" doing our thing.